Data - Add Calculation
Data

Add Calculation allows you to perform a calculation on an individual response. Any question or field can have a calculation performed on it.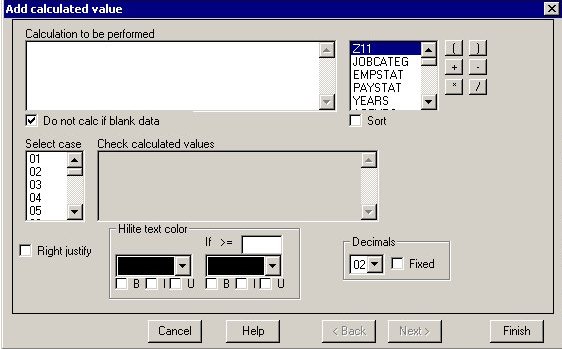 To perform individual calculations
Select Data Add Calculation or use the keyboard combination Shift+C to bring up the Add calculated value dialog box.
Select a question value from the column on the right.
Check the sort box to alphebetize the questions.
Then use the operators ( ) + - * / to build your equation.
If the respondent had the option of ignoring a question, check the do not calc if blank data box to leave this response out.
Then select a case (individual response to a question) that you want to apply the equation to.
The following options allow you to change the visual aspects of your output:

Highlight text color allows you to highlight data above and below a certain value. The drop down color menu on the left applies to the higher values and the right menu to the lower values.
There are also check boxes below for bold, italic and underlining the values.
Right justify moves values to right of output table.
You can also add a decimal point to the calculated value if necessary. Changing the value in the listbox determines how many decimals places are shown.