Database - Delete Records from Database
Instructions:
To delete one or more records in the survey database follow these steps.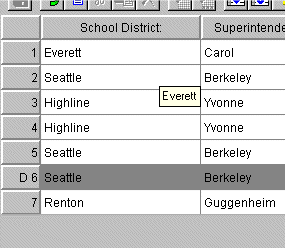 Have your form opened and make sure the survey database is available.
Select Database Edit database. The Database Edit window will open.
Right-click on the record you want to delete. The sub-menu will open.
Select delete in the sub-menu. For safety reasons, EZSurvey temporarily deletes that record and marks a letter D in front of that record. You may undo the deletion by right-clicking on that record again and clicking on delete again. This marks the record for deletion later.
Save and close the Database Edit window.
To delete the records permanently, select Utilities Rebuild database. Note: If you are using an ODBC database (EZSurvey Pro only), then you need to save your .EZF file to update the database.
See also...