Publish - Windows Server 2003
Windows Server 2003 comes with IIS 6.0. Here is some useful information for publishing to MS Windows Server 2003.
Does not have a default scripts directory. A scripts directory must be created. Permissions need to be set on the directory to allow Scripts and Executables.
Enable Web Service Extensions in IIS 6.0 to allow CGIs to be executed. (This is similar to URLScan).
When publishing by the administrator, by default, the .asc file does not have file permissions to write by the IUSR_NAME account (where NAME is the name of the computer).
If you transfer files over a network to a Windows 2003 Server using a Power User account, the file permissions to write to the .asc file by the IUSR_NAME account need to be enabled.
Follow these steps to allow ezs.exe under Web Service Extensions in IIS 6.0:

Open Internet Information Services (IIS) Manager from the Administrative Tools window. Select Web Service Extensions. Select Add a new Web service extension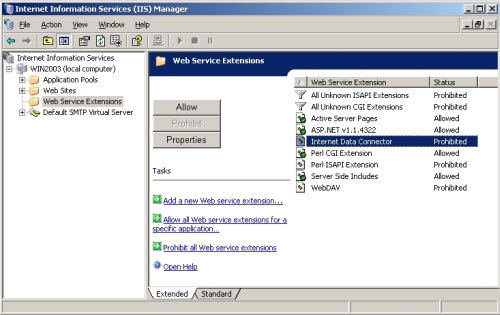 From the New Web Service Extension window, enter ezs.exe into the Extension name box. Select Add and enter the path to the ezs.exe program on the server. In the example the directory is located at
C:\Inetpub\Scripts\ezs.exe
Also, select the option Set extension status to Allowed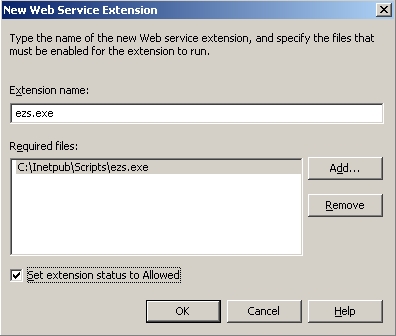 See also...